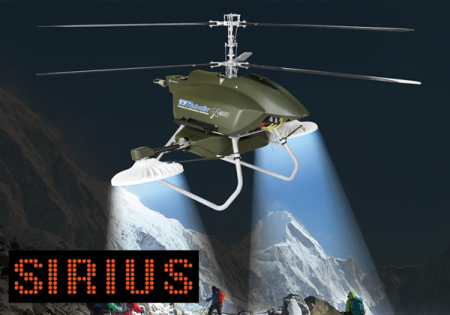 Introduction
Being the unmanned helicopter professional's choice for high output aerial lighting, the aerial LED systems are designed to be mounted to CX-180 Sirius. They allow dynamic and unique lighting angles and shadow movements that have been impossible otherwise without the use of CX-180 Sirius. Super brightness LED integrates into high payload CX-180 for versatile, powerful lighting for inspection, search and rescue.
Features:
Search and Rescue Unmanned Helicopter
Over 70,000 Lm Super Brightness LED Searchlight.
High efficiency coaxial pitch control structure design.
Exclusive dual motor power safety system design has been officially patented.
Specially designed high efficiency 6 blade rotor system.
Foldable Main rotor and No tail rotor compact design.
Searchlight Specifications

| Diameter | Height | Input Voltage | Power Consumption | Typical Lm Output(WD) |
| --- | --- | --- | --- | --- |
| 369mm (14.5in) | 91mm (3.6in) | DC 24V | 300W *2 | 36,000Lm *2 |
| Weight | Beam Spread Angle | Color Rendering Index | Operation Temperature | Life Time |
| 3.2kg *2 | 30° | >80 | -30°C ~ +50°C | 60,000hr |
Helicopter Specifications

| Length | Width | Height | Rotor Diameter |
| --- | --- | --- | --- |
| 1166mm (45.9in) | 1406mm (55.4in) | 906mm(35.7in) | 1820mm (72in) |
| Motor | Power Battery | Take off Weight | Max Flight Time |
| 400KV BRUSHLESS MOTOR | 6S-LiPo 22000mAh(25C)*4 | 32kg(with LED Structure) | 25min |