News
2023
Thunder Tiger Demonstrates Large-Scale Unmanned Helicopter Swarm Flight to Czech Delegation
Thunder Tiger Demonstrates Large-Scale Unmanned Helicopter Swarm Flight to Czech Delegation
2023.03.30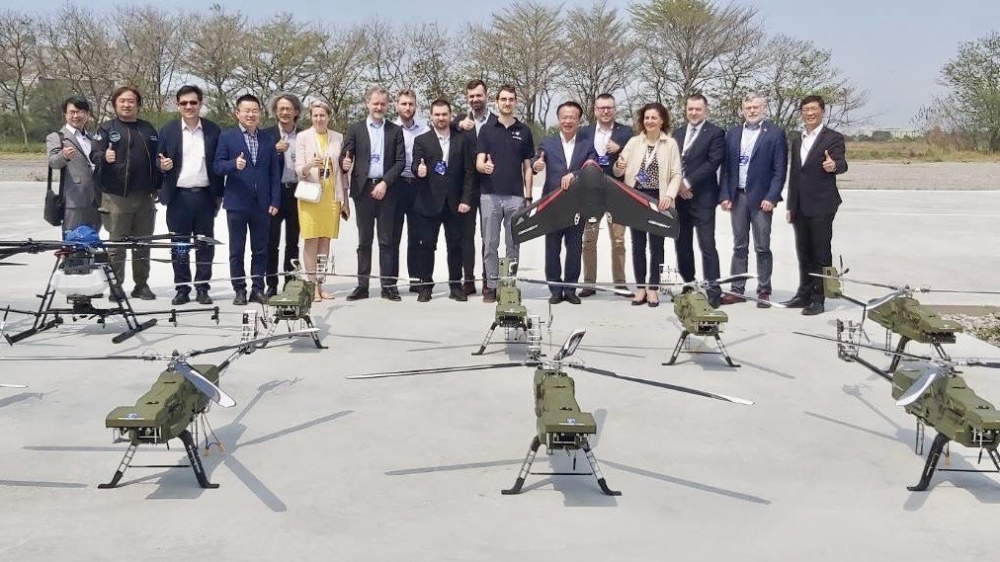 The aerospace team from the Czech parliament visited the "Asia UAV AI Innovation and Application R&D Center" in Chiayi County on August 30th. County Magistrate Weng Chang-Liang personally received the delegation. Among the demonstrations, Thunder Tiger Corp. (8033) showcased a world-first swarm flight of nine medium-to-large communication-enabled unmanned helicopters, known as T-200. Members of the Czech parliament delegation had the opportunity to witness ThunderTiger's collaboration with Chunghwa Telecom, resulting in the T-200 unmanned helicopters equipped with swarm flight system and aerial base station technology. This innovation enables the establishment of an aerial communication network composed of multiple T-200 unmanned helicopters during times of major disasters and warfare, ensuring smooth communication even when communication equipment is damaged.

During the recent unveiling ceremony of the "Asia UAV AI Innovation and Application R&D Center" in Chiayi, Thunder Tiger once again showcased the collaborative product, the "Unmanned UAV Central Command Tower," with Chunghwa Telecom. This tower functions as a relay station for swarms of unmanned aircraft, expanding the communication network coverage of the drone fleet. Thunder Tiger Corp's presentation of the world's first helicopter swarm flight holds significant implications for Taiwan's national defense and autonomy.

Given the recent conflicts between Ukraine and Russia, along with frequent military threats from China around Taiwan, the unmanned aircraft industry has drawn significant attention in Taiwan. In recent years, Chiayi County Government has actively established aerospace industrial parks in Taibao and Minxiong. County Magistrate Weng and Director Jiang, along with heavyweight unmanned aircraft manufacturers such as the National Chung-Shan Institute of Science and Technology, Thunder Tiger Corp., and Taiwan Swarm Innovation, have collaborated to set up the Asia UAV AI Innovation and Application R&D Center. This initiative aims to turn Chiayi County into a hub for unmanned aircraft development in Asia.

As a leading unmanned aircraft manufacturer, Thunder Tiger Corp. has accumulated nearly 45 years of experience in unmanned helicopter development. In recent years, the company has actively transitioned to the industrial drone sector, focusing on innovative applications. Besides telecommunications applications, Thunder Tiger received government support last year, obtaining the development projects for the dual-use T-400 drone and the military micro drone. Leveraging the advantages of payload capacity and flight efficiency of helicopters, Thunder Tiger continues its technical development efforts. The swarm flight technology demonstrated with the 2-meter-long T-200 unmanned helicopters enables simultaneous flight of 20 or more vehicles equipped with various communication devices. These vehicles can be centrally controlled from the same command center in the air, addressing the urgent communication needs of disaster-stricken and war-affected areas. Large-scale unmanned helicopter swarm flight is anticipated to find future applications in military defense, potentially replacing the use of military helicopters, achieving asymmetric warfare and deterrence effects against adversaries.