News
2023
Thunder Tiger Corp's Underwater Unmanned Vehicles and Sea Wolf AUV Enter Ministry of Economic Affairs' Marine Technology Innovation Center(MTIC)
Thunder Tiger Corp's Underwater Unmanned Vehicles and Sea Wolf AUV Enter Ministry of Economic Affairs' Marine Technology Innovation Center(MTIC)
2023.07.19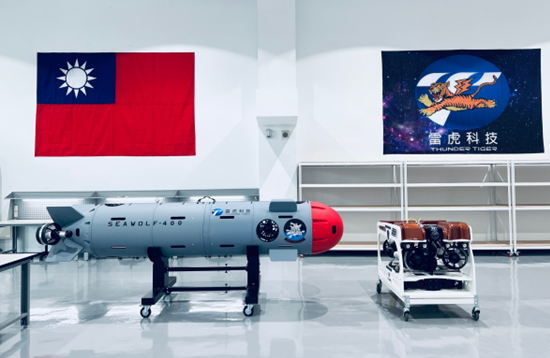 Thunder Tiger Corp. (8033) received approval from the Executive Yuan's Ministry of Economic Affairs at the end of May and officially entered the Ministry's "Marine Technology Innovation Center" (MTIC) in Kaohsiung on July 19th. This move aligns with the nation's six major core strategic industries, domestic manufacturing, and the accelerated development of green energy and renewable industries. Thunder Tiger's underwater remotely operated vehicle (ROV) and the Sea Wolf 400 Autonomous Underwater Vehicle (AUV) will utilize the national-level underwater vehicle research facility to conduct underwater unmanned vehicle verification, striving to secure opportunities in defense, maritime patrol, commercial, offshore wind power, and underwater inspection and exploration sectors.

The first phase of the Ministry of Economic Affairs' "Marine Technology Innovation Center," focused on personnel training and innovation, officially opened in January 2021. The second phase, the "Offshore Engineering Center," is expected to complete the construction of an international-grade deepwater pool this year. The pool, measuring 36 meters in length, 30 meters in width, and 12 meters in depth, will be equipped with wind, wave, and current generation facilities to simulate Taiwan's offshore wind farm environmental conditions. This advancement will further accelerate the integration of Thunder Tiger and IVC's artificial intelligence (AI) developments.

Thunder Tiger has signed a memorandum of understanding with the Intelligent Vehicle Mobility Lab (IVC), a foundation under the Ministry of Economic Affairs. Both entities will collaborate in utilizing this research facility to integrate AI with Thunder Tiger's existing unmanned vehicles, achieving synergy among three vehicle types: surface, aerial, and underwater. The surface unmanned vessel serves as a takeoff platform for carrying unmanned aerial vehicles (UAVs) and unmanned underwater vehicles (ROVs). The UAV can inspect wind turbine blades hundreds of meters high, while the ROV can inspect the wind turbine base hundreds of meters below the surface. All imagery is uploaded to the cloud and analyzed using big data and AI for real-time maintenance assessments.

In recent years, Thunder Tiger has actively transformed itself into the industrial and military drone sectors, developing and enhancing innovative applications for unmanned aircraft. Last year and this year, the company obtained qualifications as the lead developer for the dual-use T-400 drone and the military commercial-standard micro drone. In March of this year, Thunder Tiger officially unveiled the prototype of the Sea Wolf 400 AUV system. With its current presence in the national-level Marine Technology Innovation Center, the company is poised to accelerate advancements in underwater submarines and various underwater vehicle swarms with dual military and civilian functions. An official exhibition is scheduled for the aerospace show in September, so stay tuned.